For years I dreamed of doing something to spread the idea that happiness can be very simple. It didn't materialize until last Sunday afternoon, when my friend Cynthea and I finally organised a little event titled "A Simple Day".
It was glorious.
The location was at an old black and white terrace house in the middle of nowhere (it's Cynthea's studio space on a normal day). We had invited three guests to share their stories with us.
Madi, who told us about his fascinating journey to discover his purpose in life; Lionel, who shared tips and ideas about how we can all find financial happiness; and Daniel, whose uproariously funny and also moving talk reminded us to live a life of simple gratitude.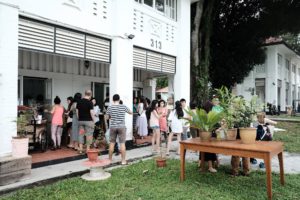 A Simple Day of good vibes, good people and good stories
Both friends and strangers came. People we had never met, friends we'd not seen in a long time. Everyone gathered in a little room, listening to stories that put a smile on their faces.
After the event ended, people came up to us and told us how inspired they were by the afternoon.
Cynthea and I were overcome with a happiness that wrapped around us like a warm, fuzzy blanket. We knew people needed to hear about the idea of simple happiness, but we had no idea how much people needed it.

Cynthea and Jan, meeting for the first time

Daniel, before his extremely entertaining and engaging talk

Friends, old and new – thank you for coming!
*
A Simple Day is definitely not going to end at one event. It is a community, a tribe, an idea, a seed, and hopefully a movement.
A movement about what?
A movement about happiness. And not just happiness, but simple happiness.
We want to spark conversations about how little it takes to be happy. We also want to keep all our events and activities entirely free. In a world where everything is a transaction, we want to keep A Simple Day free for everyone to be a part of.
Society imprisons people with its rules and expectations. It tells you to achieve certain things, behave in certain ways. And it tells you to (endlessly) buy things. We want to put a stop to all of that in our own way.
(And for us, it's an amazing feeling to be doing things we are passionate about in exchange for not money but smiles on other people's faces! It's the most liberating and free feeling in the world.)
"Simple happiness" isn't always self-explanatory, but I think Daniel summed it up very well for us when he used this phrase during his talk –
"Enough is plenty".
*
I had met Cynthea serendipitously a few years ago at an event; a few months after that we bumped into each other while we were both eating alone. The waiter had seated us next to each other. I think we were both a little apprehensive at being seated next to an acquaintance with whom we now had to make small talk, but we needn't have worried. We spent the next 3 hours talking about everything under the sun. We talked about happiness. About depression. About our work. About how to find meaning in the things we do. Everything.
And now here we are, trying to change the world together (into a happier one!).
Read more about A Simple Day and what we do at our Facebook page.
And join us next time if you are free!