For a period of about a year, I wrote a weekly column for Lianhe Zaobao, a national Chinese-language newspaper in Singapore. My article appeared every Thursday, like clockwork.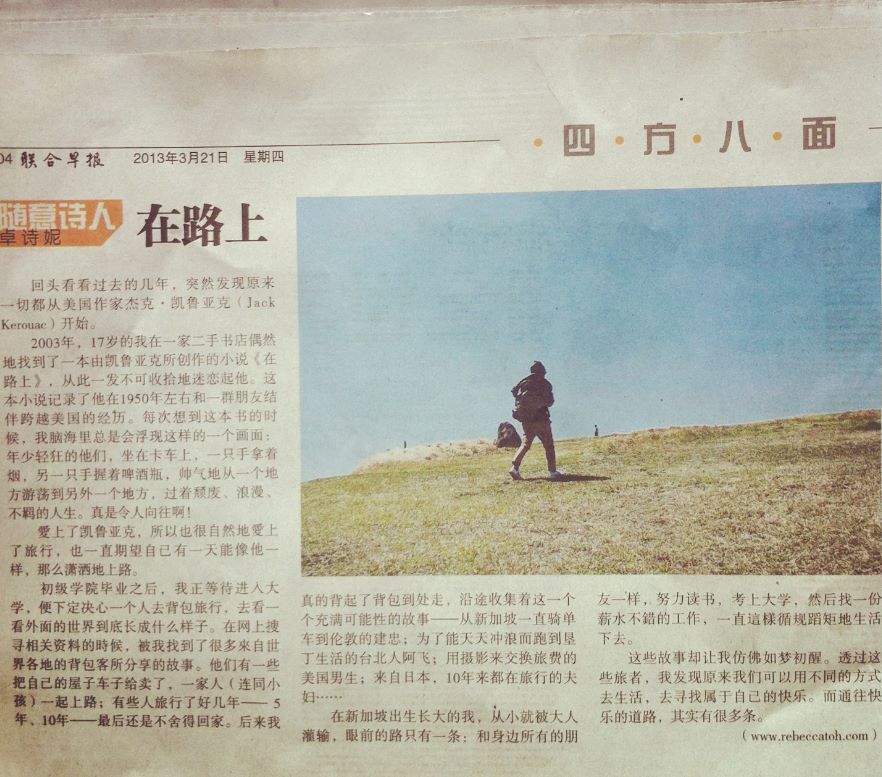 My very first column. I wish I had a better picture of it.
I wrote about everything under the sun. My topics ranged from photography, traveling, swimming, reading… to music, meditation, death, etc.
The newspaper had a huge audience (as of August 2016, their circulation is about 180,000), and the other columnists were all older, experienced writers, so it was both incredibly pressurizing, and also a great opportunity and platform.
My column started in March 2013. I wrote close to 40 articles in total over the next year. At that time I was about 27 and not quite yet a photographer. Nobody really knew who I was and I hadn't really been published anywhere before.
Here are some lessons I learned from the experience:
(1) The fact that an established national newspaper would let a young nobody write a weekly column for it suggests that… anyone can break into any inner circle, no matter how seemingly impenetrable. So young nobodies take heart.
(2) If you let a big organization or company or brand know you exist, you would have given your chances of being "discovered" a big boost. I first wrote to the newspaper floating the idea of me writing a column for them in 2009 (I just checked my email archives). The editor replied me a week later, saying we could meet up for a chat, but I never heard from them again until three years later.
(3) Try to sell yourself in some way, even if you're a young nobody. When I wrote to them in 2009, apart from being the founder/owner of a cafe that had received some media attention, I had only written some articles on my blog and been published in some small, independent publications. Since this was all I had, I used them to sell myself. Any small achievements can be part of your portfolio, if (and only if) they are relevant.
(4) It can take awhile for things to happen. About three years passed since my first email before I heard from the paper again. I think a columnist had just ended his run, so there was now an opportunity for a new columnist to come on board. In those three years, I had managed to write a lot more and was by then hosting a radio programme for a national radio station. I was still a nobody, but a much more experienced nobody.
(5) Writing a weekly column was fun at first but soon it became quite frustrating, since I had to write a high-quality article once a week while I was trying to break into the photography industry. It was challenging. I never learned to accumulate my articles so I could give myself some lead time. This is something to note the next time I write a newspaper column again.
(6) Being committed to something like this made me work hard. I'm a lazy person by nature, but being a columnist for a national newspaper gave me enough pressure to actually deliver. Week after week. It FORCED me to work because I was already (very publicly) committed. It's a rather sado-masochistic way to "get things done", but it works.
(7) There is therefore a beauty in commitments like this. Take Casey Neistat, who uploaded a short vlog of his life every day for two years. His popularity exploded over those two years and he grew his Youtube subscribers to more than 5.8 million. He recently sold his company to CNN for $25 million.
(8) Most of us will never be Casey Neistat, but as you can see, doing something consistently over a period of time not only allows you to become better at what you do, you also get to bring your audience along with you on the ride. That audience will only grow in number over time.
(9) Know when to stop. Once a commitment/project stops being enjoyable, and after you have learned most of what you can from it, stop. Move on to something different that can allow you to grow in new ways.
So now…
This is my something different.
I will be publishing articles here once a week, every Thursday.
Thanks for joining me on this ride. I can't wait to see where we'll go together from here.
Write a comment below to tell me a little about yourself and your journey.
Let's keep moving forward together!